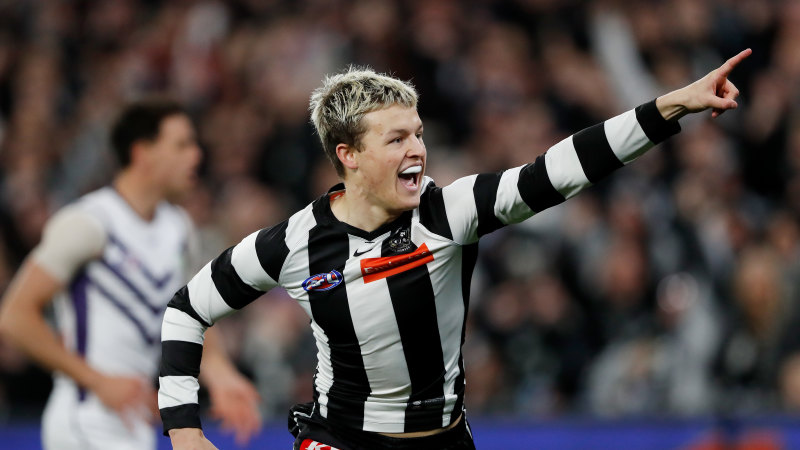 Here is more from McRae's post-match press conference…
Q: What are your thoughts on heading to the SCG?
A: We are better for the experience, we played there three weeks ago. Jordie (De Goey) told me we didn't play, so we are much better for it. Lots of good lessons. There will be time to talk about the lessons we have learned. Tonight we will celebrate that we have made into a prelim.
Q: Fremantle's ball use was stagnant. How did you see the defensive effort of the Pies?
A: That was something we worked on during the week, we scouted, they will try to possess the ball by foot and we took that away from them and force them down the line and our aerial guys got to work. That is a real strength of ours, intercept marking, I think we're number one in the comp. We wanted to force it in that style of the game and choked them around the uncontested mark in particular.
Q: Do you think the two finals of Darcy Moore have been slightly underplayed?
A: He has been sick all week, so I'm just going to call it for what it is. On particular players. But I thought he was pretty good tonight. If you look back and look how he played intercept, the guy has been in bed for a couple of days pretty ill. I love what he does. I will stand up for him.
Q: There is the inexperience you have in your team, but so many are so impressive in what has been their first finals series. How proud are you of how they have been able to handle the occasion?
A: Two weeks in a row we look like we could handle the big stage. This is what we play for and our game plan stacks up. All year we think we are preparing for a finals-type gameplan, and just honing our craft and getting better. I think individually has looked more at home. 90,000 people there and most of them black and white, thank you to the Magpie Army for coming. We looked ready for the occasion. It's exciting.
Q: You manage to get more out of Mason Cox in the second half of the year, really good in the contest and the ruck.
A: Like everyone, we want Mason to get better. He is over 30 now, and just asking him to get busy on your craft. When he marks the ball, he is a presence. He is another one that ignites the crowd when he is up and going. I think he is an important cog, as many are.
Q: How important was Darcy Moore not missing the game, given what you said there?
A: I hate it when the doctor rings me on match day. He rang me on match day. So there was some concern. Level of confidence was still there, but some concern.
Q: Cold and flu like symptoms?
A: Don't want to give too much away.
Q: Taylor Adams and Brodie Grundy, two very senior players not out there tonight, can you explain the role they have had in and around the club, not being able to play?
A: Brodie is working with our rucks and analysing what is coming. And 'Tay' was in the box tonight doing centre bounces. So it was really hard for Taylor after the game. He is in, but then as I said last week he will struggle match day. We have to try to keep those guys close to us. This is 22 playing tonight, 23, and there is many more that contributed to why we are in this position, so we will keep them along for the journey.
Q: Are you more comfortable, given how many close wins you have had at the back half of the season?
A: We are getting better and finding ways. The last quarter, just trying to manage the clock a bit, which makes it harder to score. So potentially we can go for it and score more goals but we didn't really need to score too many more. They had to kick six goals at one stage. Those things keep the game a little bit tighter which we learn our lessons about. But as I keep saying, I think our best is in front of us. And looking forward to the challenge of what comes this week.
Q: The change from last week, how did you see his game?
A: I was really proud of Trent (Bianco), he came in and did what he needed to do. He gets caught up in making a couple of mistakes, come on, it's OK. We are allowed to make mistakes so I thought his discipline to task… And he allowed others to shine just by doing his job. I did read a couple of comments when we picked him, I thought, they don't see the trust we have in this young kid and credit to him, he played well.
Q: The finals, throughout that whole streak and they were in a preliminary final, can Collingwood win a premiership?
A: We are here to win it. One more game and you are in a Grand Final. We are here to win this thing. We are going to work our butts off to get better and give ourselves every chance. We know it is coming up in Sydney, but we will give it our best shot. We are ready to go.